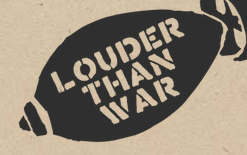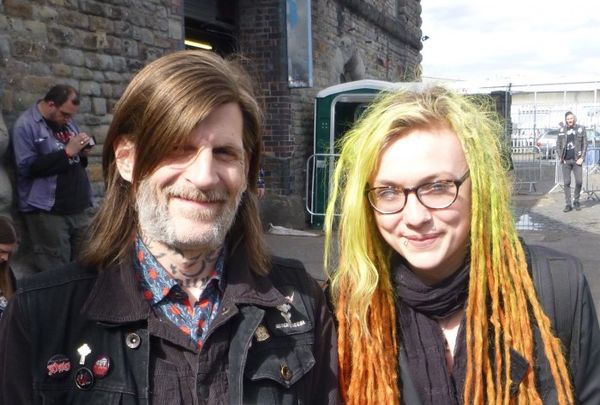 Louder Than War represented big time at this weekend's Temples Festival in Bristol, one of the world's foremost heavy music jamborees which this year was headlined by Converge, Sunn O))) and the mighty Earth!
We'll be running a full review very soon, but we also had a dedicated interviewer, Sophie Sparham, on site too who spoke to a few of the bands on site. So we start our feedback from Temples Festival with this, her chat with the one and only Dylan Carlson from Earth.
Louder Than War: So, just to bring us up to date, what have been some of the highlights for Earth the past couple of years?
Dylan Carlson: The most recent highlight would be the new record, it's done better than anyone expect. We actually charted in the US and it outsold all the other Earth albums, so it's done really well. We've been touring pretty much since June of last year.
You said in the album that you felt you were allowed to be a rock band, what did you mean by that?
Well, in the past, I've chosen to feature other instruments a lot. Instruments that you don't see in a heavy rock context. We had a trombone and piano on Bees (The Bees Made Honey in the Lion's Skull – Earth's 2008 release on Southern Lord – ed) and a lot of keyboard and piano and toured with that line-up. Whereas this album is definitely more of a guitar record.
The guitars are obviously always there, but in this album they're front and centre.
Did you choose to approach it like that?
It kinda ended up that way because when I first started writing for this album we were touring Japan, Australia and New Zealand and it was cheaper to bring a three piece! So we started touring as a three piece a lot with guitar, bass and drums. So the songs reflected that. Then we brought in Jody and Brett, who are both guitarists.
I've listened to the album, it sounds solid.
Yeah Jody does stuff that's not guitary. He's really good at making stuff sound organny, where as Brett is just a really good rock player and really free.
You really like England, why?
My grandmother came over from Scotland in 1948, we lived in Germany when I was a kid and we used to come up and visit relatives a lot. I've just always liked the countryside, the people, the culture. My wife's English also! I feel at home here. It's funny because I'm pretty American, but I just like England a lot. I like being here more than the states.
You said back in the day you used to prefer the recording process, but now you really love playing live. What is it about playing live that you love so much?
The live thing I like because it's like the band and the audience are together and you're creating this moment that's not going to be duplicated. It's different every time. The studio is like, you know you can correct things. Whereas live is more like a roller coaster ride and you don't know what's going to happen. I like interacting more. A studio can be claustrophobic.  The live show is a moment in time.
What are you interested in outside the band? There's just so much going on in your records!
I'm just really into folk law, especially stuff about magic. I love English folk law and mythology. Old mythology or newer stuff. America has mythology that's more recent, a lot of it was brought over and mixed with Native and African beliefs. It's all folk music and it's all folk law. It's not high culture which is normally really boring!
When people talk about Earth, they divide you into two phases. How do you feel about that and when you came back was that intentional or just natural?
I never understood making the same album over and over. To me that's what's good about the album making process, you're catching this one moment in time that won't be duplicated. You won't do it again. You change as a musician, hopefully you grow as a musician, you grow as a human being. To me there's a continuity, because it's still me and I still write. Hopefully I've gotten better at what I do.
The more you listen to music, the more other influences will come in. It's a natural thing.
Earth 2 was done for a specific set of reasons and that's why it came out that way. When we were doing Angels, we were working with the same guy, Stuart, and we were laughing about how different we would do that record now than if we did it back then. Back then we didn't have a plan, we were just like 'oh let's write this, let's write that'.
It's just natural! It's not like you go in knowing what will come out.
I always find that a record never ends up exactly as you pictured or intended it when you started it. You're working with other people and they're going to be influential. It's a process and it changes. It usually ends up better than what you had in mind and stuff happens that you can't foresee. I've never understood super control freaks. Especially with music, you have to give up control at a certain point. You don't have control through the entire process and you don't have control with how it will be perceived.
The thing with music is you don't pick your best moment. You may think you know your best track, your best show your best moment, but other people decide what your best song, your best show and your best moment is and you have to just be ok with that.
If you were a super control freak you wouldn't be in a band! I notice that it's been 20 years since Phase 3, but who are Earth now?
Well that album came out at a particularly difficult period of my life so Earth was just me at that point. Now I'm older, I survived, hopefully learned from my mistakes. I just think I'm at a better place, I'm playing better, I'm married, I'm happy. Rather than near death or on my way to jail, things have improved!
~
Dylan Carlson plays Supersonic Festival the weekend after next in a soundclash with The Bug. Titled The Bug vs Dylan Carlson it's not to be missed. See the rest of their upcoming shows HERE.