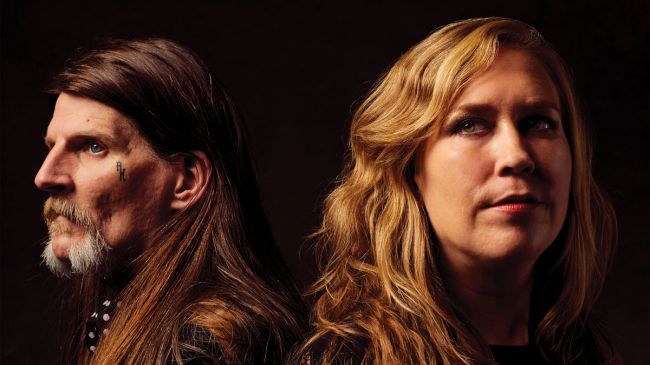 (full feature via Louder Sound)

Seattle experimentalists Earth have long dabbled in drone-inflected sonic minimalism. Over the course of their 30 years – and their eight studio albums – they've explored new musical territories and influenced a legion of bands in their wake.
With new album Full Upon Her Burning Lips, Earth – now a duo consisting of founder member Dylan Carlson and percussionist Adrienne Davies – have stripped their sound back to its core. It's still Earth, but it's Earth at their most essential.
"It was definitely a very organically developed record," says Carlson. "I limited the number of effects I used. I always like the limiting of materials to force oneself to employ them more creatively. Previous Earth records were quite lush sounding, and I wanted a more upfront and drier sound, using very few studio effects.
"I wanted this to be a 'sexy' record, a record acknowledging the 'witchy' and 'sensual' aspects in the music… sort of a 'witch's garden' kind of theme, with references to mind-altering plants and animals that people have always held superstitious beliefs towards. A conjuror or root doctor's herbarium of songs, as it were.
"I feel like this is the fullest expression and purest distillation of what Earth does since I re-started the band."
Here, Carlson takes us through Full Upon Her Burning Lips, one track at a time.